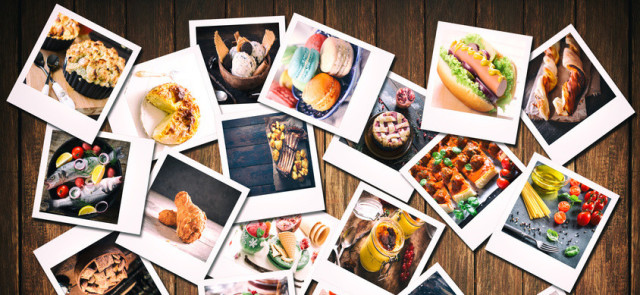 The subject of food remains within the interests of majority of people – not only the active ones, who care about their health. Everybody likes to eat tasty meals, that's why the trend of taking pictures of dishes in restaurants or at home has been observed recently. There are also almost infinite numbers of dishes which look delicious on the Internet, including social networking sites. The question I would like to answer today is: what kind of influence may watching such pictures have on the body?
Pictures of meals and overeating
It occurs, that the marketing specialists, who advertise food, show tasty food or meals for just cause, because such stimulation of the senses helps to achieve the planned effect – increase the sales of the offered product. Exposure to such stimuli makes us eat despite lack of hunger. It's been proven by scientists who researched the activity of human brain in response to the pictures of tasty dishes. They found out that people with excess amount of body fat are much more prone to the fatal influence of the view of food. There's no doubt that the target, which is very sensitive to such stimuli, are also children.
The pictures of meals and the crave for particular food products
On the other hand, watching pictures of food may also have positive influence, especially on people who are conscious about their nutrition mistakes and who want to change their current habits, as well as food preferences. The key factor is the choice of pictures we watch. While those photos, which present fatty products, or full with chocolate, or whipped cream, may encourage to commit nutrition peccadilloes, the attractive photos of meals prepared from unprocessed and valuable dishes may increase the interest in the properly balanced menu. Such situation takes place because many people still believe that healthy and nutritious food has to be distasteful and unsatisfactory. Watching attractive meals with meat, vegetables, and especially valuable desserts, changes the stereotypical attitude. What's more, it may inspire to do culinary experiments, which is a huge progress in case of people who eat fast food or "junk food" every day.
Is it worth taking pictures of your food?
A person who takes out a phone (or even reflex camera) in a restaurant in order to take a picture of the meal right before consuming it is not such a rare view nowadays. Many people are very engaged in preparing meals at home and then posting them in the virtual world – either on the social networking sites, or in their food-training diaries. It may be also observed, that such actions are motivating for people working on their body aesthetics, especially if the pictures cause the planned effect and raise interest among the people who watch them. What's more, the photos of delicious and valuable meals may inspire other people to undertake actions in order to improve their body aesthetics ("because what kind of philosophy is it, when you can eat such tasty-looking food?"). Another thing is, that arranging the "situations" on a plate to make them attractive for potential recipients of the pictures influence positively the palatability of meals. It's been known for a long time that we also "eat" with our eyes – the aesthetics of serving food influences the perception of taste of a particular dish. That's why, even when you are in the middle of fat reduction, you can increase the satisfaction from the consumed meals just by paying more attention to the way you serve them.
Summary
Watching pictures with tasty-looking food may be connected with either positive, or negative consequences. It may lead to larger consumption – even in case of lack of hunger, but it may also increase the interest in valuable food. The meaningful factors are the approach and the kind of pictures you see. Whereas, taking photos of dishes prepared by yourself may be and additional motivator for others to be inspired to change the current nutrition habits.